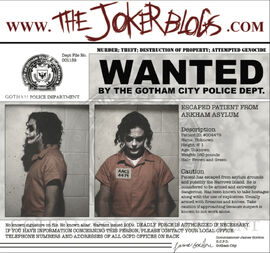 The following is a description of the TJB episodes:
The first half is centered around Patient #4479's time in Arkham Asylum with his doctor, Harleen Quinzel.
In these first few episodes, we meet Harleen Quinzel, Hugo Strange, Lyle Bolton, Jeremiah Arkham, and we even see Johnathan Crane (a.k.a, Scarecrow).
Throughout the first part of the series, we see the Joker's affections for his doctor grow, eventually becoming jealousy in episode 6 "Apple a Day" when he learns she is engaged to a man named Guy.
The Joker eventually escapes his cell again, but this time he leaves Arkham asylum in episode 8, "BRB".
List of episodes in Part 1:
Episode 1 - "Therapy Begins"
Episode 2 - "Arkham Bound"
Episode 3 - "Meet Steve"
"The Dark Knight Before Christmas"
Episode 4 - "A Dream Come True"
"My Funny Valentine"
Episode 5 - "Hypnotized"
Episode 6 - "Apple A Day"
"The Easter Charade"
Episode 7 - "Artistic Merit"
"Died on the Fourth of July"
Episode 8 - "BRB"
"Find Patient 4479"
"911 Phone Call".
His ongoing adventures after episode 8, "BRB", are chronicled in the second part of the series starting in episode 10, "Car Trouble". Episode 9, "Two Cops And A Clown", begins after the Joker has been arrested and is being questioned by two officers, Harvey Bullock and Jim Corrigan. The Joker tells them that if they want to know what happened during the time he was free, they would have to watch his tapes. One of the officers does so, which leads us into learning what the Joker did in that time starting with episode 10, "Car Trouble".
Throughout the second part, Joker uses his three captives - the kidnapped Nurse Pearl, Jeremy Arkham, and Lyle Bolton - to accomplish his goals. He tortures Dr. Arkham and his wife at their home and then decides to go on a "road trip". On the way, the Joker gets Lyle dressed in women's clothing, and makes him wander aimlessly in a local sewer. The Joker next kills Harleen's fiance', Guy.
After that, he adds a homeless man, named Theodore, to his entorage, and rides off to the chapel where Harleen is waiting. While inside, the Joker gets a flesh wound in his arm. He comes running out of the church and instructs Pearl to drive away quickly. When they finally come to a stop, the Joker takes the opportunity to frighten Pearl and attempt to cut her cheeks. But, before he can do so, he is interrupted by the police.
List of episodes in Part 2:
Episode 9 - "Two Cops And A Clown"
Episode 10 - "Car Trouble"
Episode 11 - "Let Sleeping Dogs Lyle"
"Trick or Treat"
Episode 12 - "Dinner With the Arkhams"
"Dragging Dr. Arkham"
Episode 13 - "Road Trip"
Episode 14 - "Killing Kopski"
Episode 15 - "Get Me To The Church On Time"
Episode 16 - "Three Minuites to Midnight"
Episode 17 - "Shotgun Wedding"